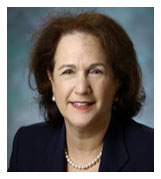 Adrian Dobs, M.D. , M.H.S.  (Adult Endocrinology)
Email:adobs@jhmi.edu
Phone: 443-287-4000

The medical and endocrine management of Klinefelter's syndrome (KS) requires a balanced and interdisciplinary approach. Adrian Dobs, M.D, M.H.S. is a leader in Men's Health and a research specialist on testosterone replacement therapies. She is the lead physician evaluating men for the medical complications of KS.

Adrian Sandra Dobs, MD, MHS, is Professor of Medicine and Oncology and Vice Chair for Faculty Development in the Department of Medicine of the Johns Hopkins University School of Medicine, in Baltimore, Maryland, and Director of the Johns Hopkins Clinical Research Network of the Johns Hopkins Institute for Clinical and Translational Research.

Dr. Dobs received her undergraduate degree from Cornell University in Human Nutrition and a medical degree from Albany Medical College, in New York. She completed her residency and chief residency in internal medicine at Montefiore Hospital, Albert Einstein College of Medicine, in the Bronx, New York and fellowship training in endocrinology and metabolism from Johns Hopkins University School of Medicine. Dr. Dobs earned a master in health sciences degree in cardiovascular epidemiology at the Johns Hopkins University Bloomberg School of Public Health.

Dr. Dobs is a researcher who has been studying the relationship between sex hormones and heart disease and has led the investigation of new options for testosterone replacement therapies. She lectures in the United States and internationally in these areas, as well as aging and testosterone therapy and testosterone and cardiovascular disease.

With book chapters, monographs, and journal articles, as well as television and Web contributions, Dr. Dobs has published extensively on topics that include hormonal and other changes with aging and skeletal muscle decline and other effects of chronic disease on the gonadal axis. Journals publishing her research include :
Journal of Clinical Endocrinology and Metabolism,
Journal of Acquired Immune Deficiency Syndromes (JAIDS),
Journal of Andrology.
She co-chairs the International Registry for Hypogonadal Men.
Dr. Dobs is very active in mentoring medical students and postdoctoral fellows and was honored by the Johns Hopkins University School of Medicine with the 2009 David M. Levine Excellence in Mentoring Award.
Dr. Dobs's staff are trained in the needs of the hypogonadal patient. She works closely with Johns Hopkins University's radiology staff for evaluation of bone density.